After hearing that ZipCloud has been nominated for a prestigious magazine award, our cloud backup team couldn't be more thrilled with this exciting news!

After featuring in many UK and US-based Mac specialist magazines over the past eighteen months, our service has received great recognition and acclaim for its hybrid backup and cloud storage platform.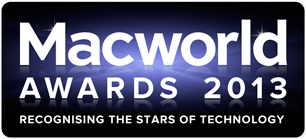 We feel honored that Macworld UK—which holds one of the UK's largest readerships—has now nominated us for their Best Professional Software Award, a category which also contains backup providers such as VMware and Parallels.
This came about following a strong editorial review featured earlier this year, summarizing that ZipCloud "makes light work of backing up, sharing and retrieving your files either automatically or manually" and is "one that should ensure all your important files are safe from harm and accessible anywhere."
Our cloud backup crew is greatly looking forward to attending the Macworld UK ceremony, which is to be held in London on 20th June, and to the prospect of bringing the prestigious mantle back to our offices.